Links

W

photo's

my studies



Hi, I'm Ron. I'm Dutch and for that reason alone already probably a bit weird. But I'm not dangerous, hehehe..... I made this page while planning on going abroad, trying to work there as a doctor. Yep, that's my job. Proof of being a bit mad is the fact that, since Summer 2004, I've worked for about 3½ years in Malaysia without a wage... Ah, bureaucracy huh huh huh... I hope you enjoy reading my little small talk nonsense. Don't get scared or offended by the pictures; I'm in some of them, can't help it. Here's one of me in the hospital.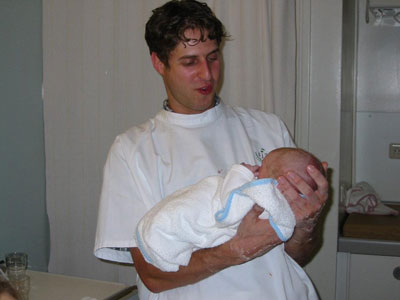 Scary, isn't it ? Well, let me give you some more info.
A man has got to know his roots. Well, my roots are in a "small-town" city… With 19,000 souls it wasn't much of a city, but it wasn't a town either.
Having finished high school I took the first chance to escape to the bigger city of Maastricht, with a population of about 122,000 still not a bustling big city, but enough to keep me going for the next 10 years. I started med school at the Maastricht University and tried to make the most of this time. Looking back at those "good old days" I might say I succeeded in that; I met a lot of interesting people, some of which became best friends. A lot of experiences as well, although some not so pleasant, still always very worthwhile.
In the meantime while studying I kept on working in a pub every weekend. Besides my parents this was the only bond I had with the little village. It was kind of fun to discover how you can influence the atmosphere in the course of five years. Being the bartender, DJ, waiter and all other things at the same time was a nice challenge.
During the week though, back in Maastricht my life was totally different. I joined the more alternative minded student organization and became an active member of the "editor board" of the 6-weekly magazine. besides doing some minor writing and column stuff, I mainly occupied myself with the photography. Heaps of pictures of all kinds of activities were produced. This was especially very profitable for the editor board of the yearbook, since for some reason in those 3 subsequent years they managed to structurally screw up all of their own pictures.
After my 3rd year I decided to spend the summer in the States, working as a youths counselor in New York State, in a Summer Camp in the middle of nowhere. What I (and most other counselors) hadn't realised was that we were to work with kids from the poor black areas of New York City... We are talking Harlem and the Bronx here ! In the end it turned out not to be so bad after all. Despite the hard working and all the stress, in retrospect we all had an awesome time.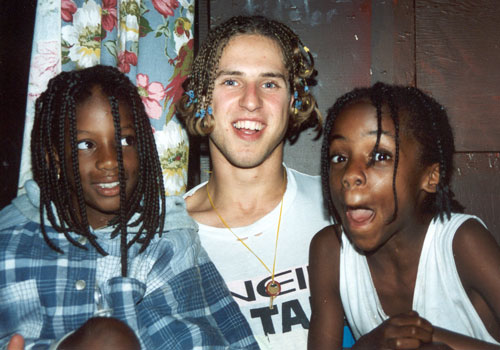 Since I was growing my hair long, the NYC-kids decided I should have it "braided". Hehe... I've been walking around like that for a couple of weeks.
Coming back I had to finish my last year and prepare for internships. Starting my first one in internal medicine was a real culture shock... So this is what it's like ? Quick enough though I got the hang of it and preparations started for my next far trip. Summer 1998, right after Soeharto took a political fall, I traveled to Bandung, Indonesia, to do an internship over there. Meant as a field internship, once there I took the opportunity to elaborate on my experiences from the "official" Ob-Gyn training I had completed just before I left. During those 15 weeks I had the best time of my life, both in and out of the hospital. This set out the basis for a dozen more trips in the years thereafter.
Having finally graduated in 1999 called for a celebration in style....

style...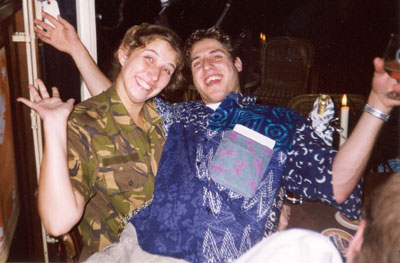 So that is why Esther and I got into our own MASH-outfits ;o)
Well, that good old Korean war... At least something good came out of it and I'm talking of course about the TV-series... ;o)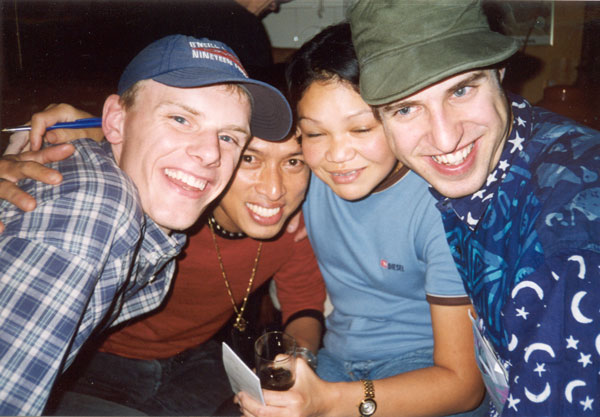 This is my best buddy Paul and my two friends Adi & Jeane
So that meant I had to start working... Finding a job was not difficult, but finding a place with a nice atmosphere turned out to be the most difficult thing. Been here, worked there and in some places had a really good time. Nothing lasts forever though.
Well, in my private life I guess you might say I did some pretty stupid things last couple of years. The way I like to put is in saying I must have done some pretty bad things in my former life. Fortunately good support from good friends is what pulled me through in the end, and I guess experiences like those help you to reflect on your own life and the life of others.
Since things didn't seem to go anywhere, after 4 years of working life in the end I picked up my plan again of moving to Asia, pursuing a dream, an illusion or something else ? We might know in a couple of years. And that is the point where you just ended up; on my page, the portal to a new chapter in my life. What happens after that you can find in my Blog. Don't get confused though :o)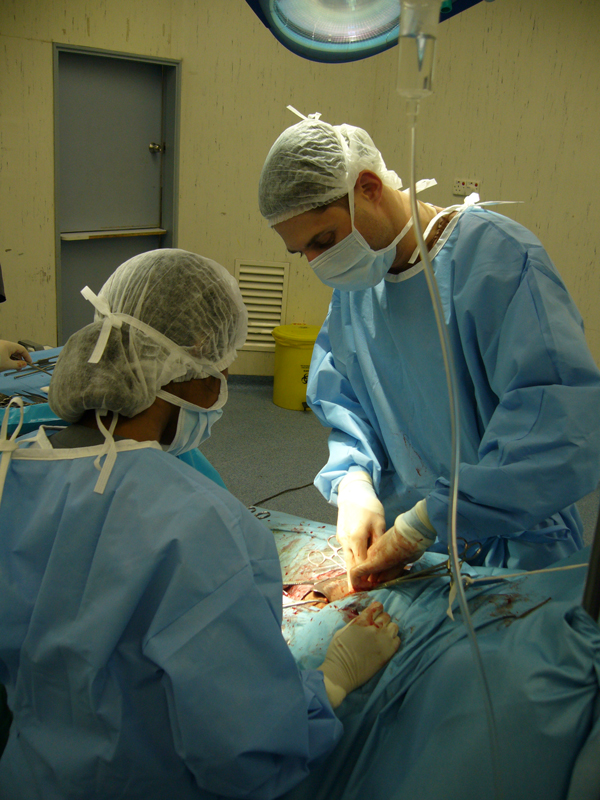 It's difficult to mend the things that happened in the past. Invariably we will find that we have to learn from our mistakes, but even if we would. I had to swallow too much sorrow and had already moved on, no point in standing still.
But having said that, it is still always good to try and make the best of a situation. Struggling as it may be I'm willing to put in the effort. This lovely picture was taken when I went back to The Netherlands during Christmas 2006.... I took the cute little one out for skating and she loved it... loved it...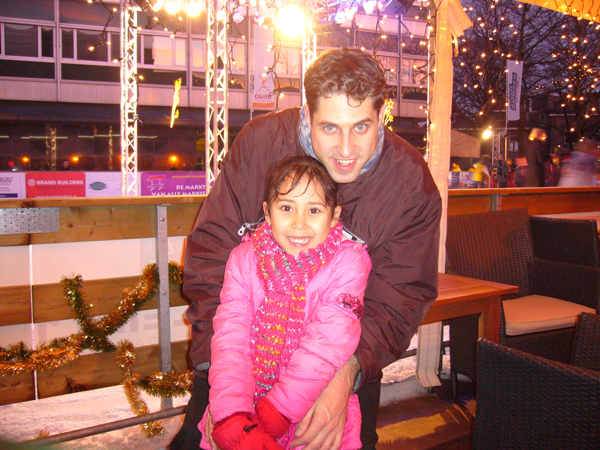 And here's another cute one :o) ....
Gita's first seastar :o) Her first snorkelling trip was a true adventure and her greates delight (up till that first good gulp of seawater of course)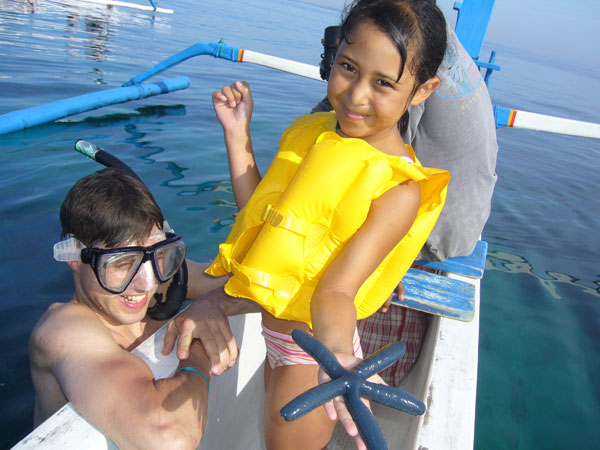 After the holiday spent in Bali with my little rascal I felt I wanted to spend some more quality time. So I temporarily moved back to the Netherlands in December 2007. I eventually landed up working in UK, which would be a good baseline to sit my exams in September. However, the transition from long-distance-dad to momentarily full-time-dad to nowadays flying dad was less smooth than hoped for. It is hard to do the right thing most of the time and sometimes I even wonder whether I'm not just causing more confusion. But I understand that Gita seems to be much happier lately and that to me is what counts most…

Books of note.... (recently) read...
Reading now !
Nothing changes Everything changes * Tsem Tulku Rinpoche
Reading now !
Gods behaving badly * Marie Phillips
The Coroner's lunch * Colin Cotterrill
Thirty-three Teeth * Colin Cotterrill
Sea of Poppies * Amitav Ghosh
The Wind-up Bird Chronicle * Haruki Murakami
Shalimar the Clown * Salman Rushdie
Saint Jack * Paul Theroux
Saving Fish from drowning * Amy Tan
Shantaram * Gregory D. Roberts
The city of the beasts * Isabel Allende
The glass palace * Amitav Ghosh
Mammon Inc. * Hwee Hwee Tan
The ground beneath her feet * Salman Rushdie
When I whistle * Shusaku Endo
Hullabaloo in the guava orchard * Kiran Desai
Raj * Gita Mehta
The god of small things * Arundhati Roy
Like water for chocolate * Laura Esquival
The bonesetter's daughter * Amy Tan
The Satanic Verses * Salman Rushdie
Some of my favo movies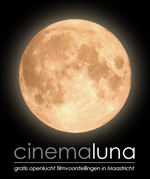 Das Genie und der Wahnsinn Denmark 2006 Tomas Villum Jensen
The Spiderwick Chronicles USA 2008 Mark Waters
Little miss Sunshine USA 2006 Jonathan Dayton
Laberinto del Fauno (Pan's Labyrinth) Mexico/Spain/USA 2006 Guillermo del Torro
The Pursuit of Happyness USA 2006 Gabrielle Muccino
A lot like Love USA 2005 Nigel Cole
Mostly Martha Germany 2002 Sandra Nettelbeck
Avellaneda's Moon (Luna de Avellaneda) Argentinia 2004 Juan Campanella
Mistress of Spices USA/UK 2005 Paul Mayeda Berges
The Shoe Fairy Hong Kong 2006 Robin Chan
Heaven's Bookstore - The light of love (Tengoku no honya - Koibi) Japan 2004 Tetsuo Shinohara
Memoirs of a Geisha USA 2005 Rob Marshall
Big Fish USA 2003 Tim Burton
25 degrés en hiver (25 degrees in winter) Belgium 2004 ium 2004 Stéphane Vuillet
American Chai USA 2001 Anurag Mehta
Taxi France 1998 Tim Story
Upswing Finland 2003 Johanna Vuoksenmaa
In the mood for love Hong Kong 2000 Wong Kar Wei
Arisan! Indonesia 2003 Nia Di Nata
Igby goes down USA 2002 Burr Steers
Dogma USA 1999 Kevin Smith
The Big Lebowski USA 1998 Joel Coen
The discovery of heaven UK/Netherlands 2001 Jeroen Krabbe
The quiet American USA/Germany/Australia 2002 Phillip Noyce
Kill Bill 1&2 USA 2003 Quentin Tarantino
Zatoichi Japan 2003 Takeshi KitanoTakeshi Kitano
The pillow book 1996 Peter Greenaway
Hero Hong Kong 2003 Yimou Zhang
Katakuri-ke no kôfuku (The happiness of the Katakuris) Japan 2001 Takashi Miike
Ressurection of the little match girl Korea 2002 Jang Sun-Woo
Jeux d'enfants
Monsoon wedding
Whale rider New Zealand 2003 Niki Caro
Rabbit proof fence Australia 2002 Phillip Noice
Lagaan
Le fabuleux destin d'Amelie Poulain (The Fabulous Destiny of Amelie Poulain) France 2001 Jeane-Pierre Jeunet
Mon rak transistor Thailand 2000 Pen-Ek Ratanaruang
Chicken rice war Singapore 2000 Chee Kong Chea
Forever Fever Singapore 1998 Glen Goei
Crouching tiger hidden dragon
L'auberge Espagnole
Bedwin hacker
Muriel's wedding USA 1995 P.J. Hogan
Priscilla the desert queen
Better than chocolate
Mango chutney
Jenseits der Stille (the sounds of silence)
Leon
Lock, Stock and two smoking Barrels UK 1998 Guy Ritchie
Trainspotting UK 1996 Danny Boyle
Shallow Grave UK 1994 Danny Boyle
Bandit queen India1994 Shekhar Kapur
Seven years in Tibet
Como agua para chocolate (Like water for chocolate)Mexico1992 Alfonso Arau
La vita è bella Italy 1997 Roberto Benigni
The cook, the thief, his wife & her lover France 1989 Peter Greenaway